Cooling Towers & Condensers
Erivac is proud to represent the Cofinair Group (Decsa, Gohl-KTK, and Jacir), a leading supplier of cooling towers, condensers, and refrigerant coolers, providing cooling solutions and technology to businesses in various industries. With decades of experience and a commitment to innovation and quality, they have established themselves as a reliable partner for companies seeking efficient and dependable cooling solutions.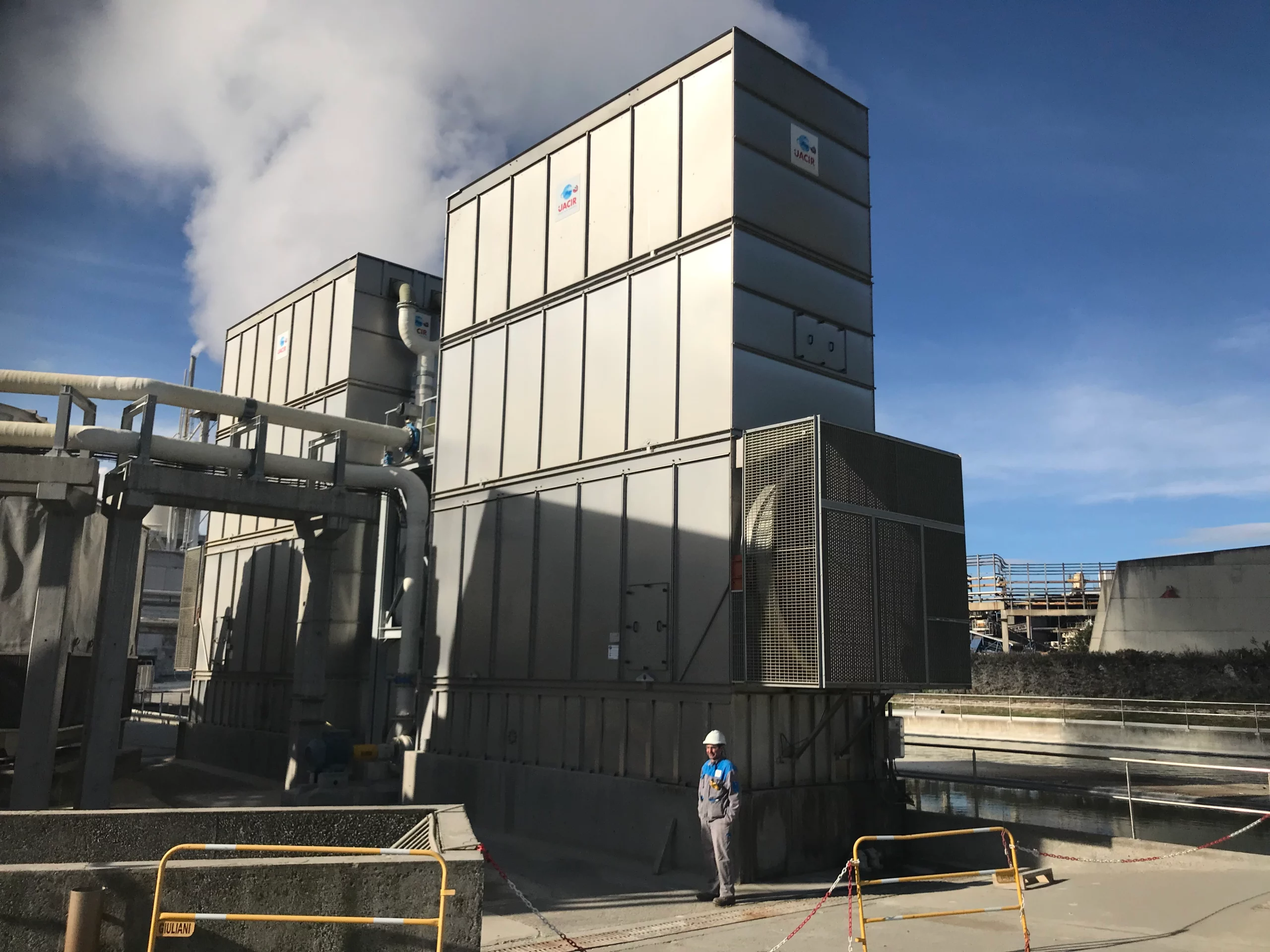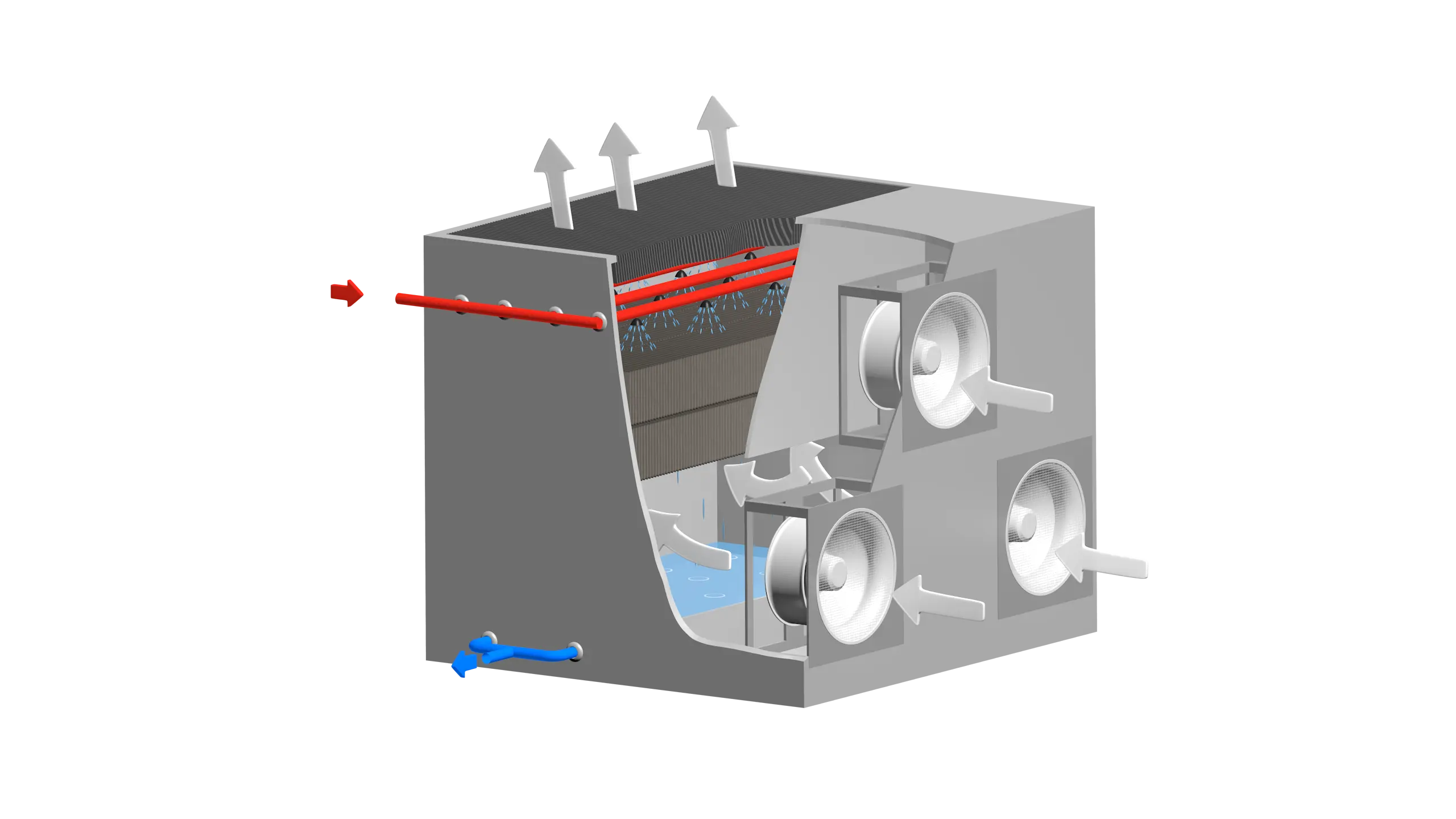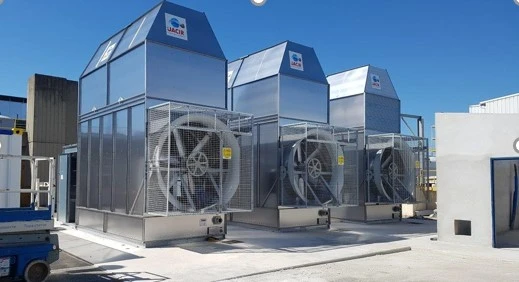 Why Cooling Solutions Matter
In many industrial processes and manufacturing facilities, maintaining the right temperature and climate control is crucial for both product quality and efficiency. Overheating or undercooling can lead to production disruptions, increased energy consumption, and reduced productivity. Therefore, the choice of cooling solutions is of utmost importance. 
Cofinair Group's Product Range of Cooling Towers, Condensers, and Refrigerant Coolers
We understand that different industries and applications have varying cooling needs. That's why Erivac, through Cofinair Group, offers a comprehensive portfolio of cooling towers, condensers, refrigerant coolers, and adiabatic coolers designed to meet diverse requirements and usage scenarios. Here are some of our top cooling tower lines:
Open

Evaporative

Cooling

Towers for Clean

Water

 

 
Open Evaporative Cooling Towers are used when cooling requirements demand large water volumes and/or when cooling water must be at a low temperature. They use evaporation to efficiently cool water and are ideal for a variety of applications. Open-loop cooling towers have no specific water quality requirements. Some of Cofinair's open cooling towers are specially designed for use with clean water. 
Evaporative Cooling Towers with Axial Fans and Forced Draft (KH Series)
   This series of evaporative cooling towers is designed for industrial use with low power consumption. They are cost-effective and offer reliable cooling. 
Evaporative Cooling Towers with Radial Fans and Forced Draft (S, ATM, TMR, WRD, KS Series)
   For HVAC and industrial use with low noise levels, this series of evaporative cooling towers is the perfect choice. They deliver high efficiency and reliable performance. 
Evaporative Cooling Towers with EC Fans and Forced Draft (DTC Series)
   Cofinair's DTC series combines low noise levels and low power consumption, making them ideal for HVAC and industrial applications where energy efficiency is important. 
Evaporative Cooling Towers with Axial Fans and Induced Draft (TMA-EU, SQA, VAP, KAD Series)
   These cooling towers are designed for industrial use in limited spaces. They have a compact design and offer high-performance cooling. 
Evaporative Cooling Towers with EC Fans and Induced Draft (ZENIT Series)
   Erivac's ZENIT series combines low noise levels, low power consumption, and a compact design to meet various HVAC and industrial cooling requirements. 
Crossflow Evaporative Cooling Towers (X TAR, TMX Series)
   This series provides better thermal exchange, low power consumption, and low noise levels. They are perfect for HVAC and industrial applications where efficiency and noise levels are important factors.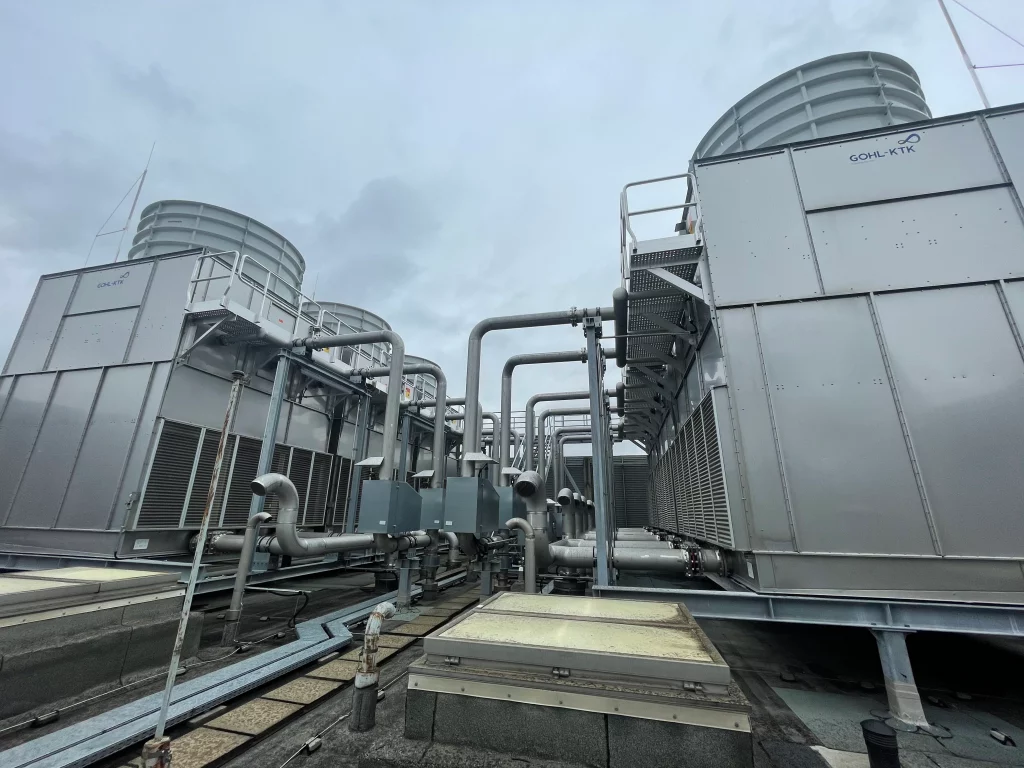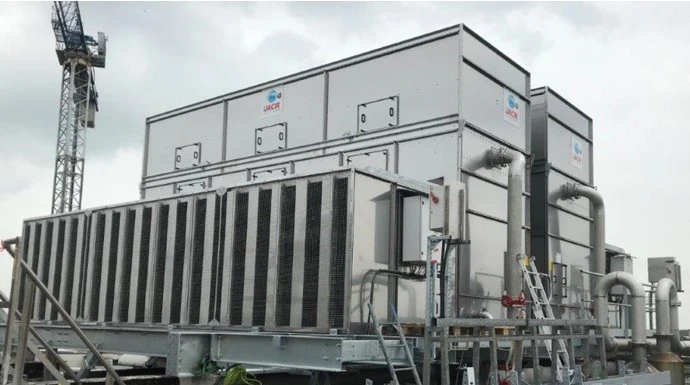 Evaporative Cooling Towers for Impure Water, Process Water, or Wastewater
Our cooling towers for impure water are designed to handle water with high particle levels, which is essential for some industries such as paper, chemical, and petrochemical industries, among others.
Cofinair's unique X-STREAM technology uses specially designed fillings that can handle extreme conditions in the air, higher particle levels, and in the water, a high concentration of suspended particles, compared to other types of fillings. This reduces clogging, improves thermal exchange, and extends the lifespan of the cooling tower. Installing these cooling towers in industrial environments with expected high levels of air pollution and dirty water is no longer a problem.
We offer a range of custom options, including various fan types, sound insulation, stainless steel construction, and more, so you can tailor your cooling solution for impure water to your specific needs.
Closed-Circuit Evaporative Cooling Towers for Clean Water / Very Dirty Water
Closed cooling towers are preferred, especially in situations where high-quality cooling water is required, such as for process equipment with narrow cooling channels.
In cases where process water or wastewater that needs cooling is so impure, with high dirt content, that Cofinair's X-STREAM technology can no longer be used, evaporative cooling towers can be installed in a closed loop with clean water and heat exchangers specially designed for heat exchange with the dirty water.
Condensers – The Most Efficient Way to Remove Heat During Cooling
Cofinair can offer two types of equipment with condensers: evaporative condensers (most efficient) or adiabatic condensers (energy-saving and without generating any aerosols).
Evaporative Condensers for Refrigerant Cooling
Refrigerant Cooling with Radial Fans (CFR-C Series)
This product line of refrigerant coolers is specially designed for low noise levels.
Refrigerant Cooling with Axial Fans (CFR-A Series)
Cofinair's refrigerant coolers with axial fans are designed to take up as little space as possible while having the lowest possible energy requirements.
Adiabatic Coolers – No Aerosols and Significant Water Savings
These cooling systems are developed to: – radically reduce liquid losses from evaporation; – be entirely safe and not propagate Legionnaires' disease (legionella); – not require water treatment before the cooler; and – be easy to maintain.
Adiabatic coolers are characterized by the spatial separation of adiabatic evaporation of water in the inlet air from the downstream dry cooler. The adiabatic evaporation process is time-limited and cools the inlet air as needed. This lowers the air temperature when ambient temperatures are high, such as in the summer. The downstream dry cooler removes process heat.
Adiabatic Cooler with H-Shape (Topaz Series)
Cofinair's Topaz Series of adiabatic coolers is designed to be easy to maintain, with easy access to the inside of the equipment for tube bundle cleaning and potential fan disassembly.
Adiabatic Cooler with V-Shape (Zyrco Series)
Cofinair's V-Shape adiabatic coolers require less installation space and are a cost-effective alternative to the Topaz series.
Adiabatic Condensers (Onyx Series)
Adiabatic condensers are used for cooling systems that use ammonia as a refrigerant. These adiabatic condensers have low water consumption, no risk of propagating Legionnaires' disease (legionella), no need for special water treatment, and easy maintenance due to their H-shape design.
Options for Cofinair's Cooling Towers, Condensers, and Adiabatic Coolers
There are many optional features available for Cofinair's cooling towers, condensers, and adiabatic coolers that may be of interest to your specific needs and applications. Here are some of these options:
Sound Insulation
Stainless Steel Construction – Special steel called X-Steel with better corrosion properties than SS316L
Surface Coating (Decsa surface coating or "Whirl Sintering" with corrosion class C5M
Polyester construction, completely free from corrosion issues.
Hybrid Cooling Towers – with condensers for outgoing air with evaporated water, applications for dry cooling are also possible.
Adiabatic coolers with drainable coil loops – Topaz series.
MATERIAL
Cooling towers are often exposed to extreme weather conditions and must therefore be made of corrosion- and weather-resistant materials. Whether you choose stainless steel or DECSA coating/Whirl sintering, you can be assured that our towers will last a long time.
– SILVER-STEEL
Manufactured on a classic production line for hot-dip galvanized steel and dipped in a fusion bath with a specific chemical zinc composition enriched with aluminum and magnesium. 5-year warranty against perforation.
– X-STEEL stainless steel
Characterized by mechanical and chemical corrosion resistance higher than stainless steel 316 L. The smooth surface inhibits the growth of biofilm and avoids galvanic loss, which is a pollutant as soon as it dilutes in water (harmful pollutant as soon as it dilutes in wastewater – zinc). 10-year warranty against perforation.
– WHIRL-SINTERING
A 0.3mm thermoplastic coating for cooling towers of the GOHL-KTK brand, representing an extremely long operating cycle. It is C5-M certified, the highest corrosion category according to coastal and offshore areas with high salt pollution (DIN 55633 and DIN EN ISO 12944).
Other available materials: Galvanized steel – FRP – Concrete – DECSA coating.
Our Commitment to Quality and Sustainability
Erivac and Cofinair always strive to deliver high-quality and sustainable cooling solutions to our customers. Our cooling towers are designed with performance and efficiency in mind, and we continuously work to improve and develop our products to meet the latest industry standards.
Contact Us
Whether you need cooling solutions for industrial processes, HVAC systems, or other applications, we are here to assist you. Our team of experts can help you choose the right cooling tower for your needs and ensure that it is delivered on time and in top condition. We also offer regular service and maintenance to ensure that your cooling towers continue to perform at the highest level and meet high safety standards.
At Erivac, together with Cofinair Group, we take pride in our commitment to delivering reliable and efficient cooling solutions. Contact us today to discuss your specific needs and find out how we can assist you with your cooling requirements.
About COFINAIR Group
A leading manufacturer of cooling towers, adiabatic coolers, and condensers in Europe, Africa, the Middle East, and Central Asia, under 3 brands (JACIR, GOHL KTK, DECSA) and with 4 production facilities in France, Germany, and Italy.
For more than half a century, the brands JACIR, GOHL, KTK, and DECSA have been synonymous with innovative technology for cooling towers and condensers.
Under the collective name Cofinair Group, they gather experience and expertise in the development and manufacturing of high-quality cooling towers, adiabatic coolers, and condensers.
THE LARGEST EUROPEAN PRODUCT RANGE
Cofinair's extremely wide range of products and decades of experience allow us to find the right solution for each of our customers. In fact, our systems are already used in almost all areas of building climate control, industrial process cooling, or industrial cooling.
COFINAIR Group is also a specialist in tailor-made solutions and always takes into account the customer's needs to offer the best possible equipment. Specific projects with special solutions are a standard for the company.
COMMITTED TO CUSTOMER BENEFITS
– HYGIENE
All our system-based solutions are designed and constructed to meet the highest statutory directives and requirements. We support you from the initial advisory discussion through to the delivery of comprehensive services, so that you receive complete solutions from a reliable source.
– QUALITY & ENVIRONMENT
Sustainability is one of the cornerstones of our corporate philosophy. We strive for quality and long service life in both our products and business relationships. Prudent and environmentally friendly use of resources and energy plays a central role in the development of new technology.
– EFFICIENCY
In addition to performance, efficiency is one of the most important factors in every investment decision. Low operating costs and very low service costs are crucial parameters. In fact, evaporative cooling is widely recognized as the most efficient and quiet system for dissipating the heat generated in cooling and industrial processes.
– GUARANTEED PERFORMANCE
The quality we deliver is built on many years of experience and is verified by specific certifications. We have already done the hard work! Benefit from our certifications from independent institutes.
– EUROVENT AND CTI CERTIFICATION
JACIR and DECSA participate in the ECC program for cooling tower performance. The thermal performance has been verified through thermodynamic calculations and independent tests on test benches performed by Eurovent-certified organizations.
– CORROSION
The independent Institut für Korrosionsschutz Dresden GmbH has verified that the whirl sintering coating process meets the requirements of DIN EN ISO 12944 in the highest corrosion category C5-M.
– ISO 9001 quality management system.
UNI EN ISO 9001: 2015 certification provides a rigorous quality standard for design, development, production, installation, and customer service. Our certification is tracked, documented, updated, and maintained through regular and scheduled internal quality audits and regular external audits.
– PED 2014/68/UE (Pressure Equipment Directive 2014/68/UE)
PED certification is mandatory for all pipes installed in our products with closed circuits containing gas (evaporative condensers, adiabatic condensers) intended for the European markets. For quality assurance, COFINAIR Group uses the same type of pipes even for units intended for non-European markets.
– EAC (Eurasian Conformity)
Conformity certificates for all products exported to the Eurasian Economic Union are mandatory for customs clearance in countries associated with the Eurasian Customs Union. The certificate is issued by a Eurasian economic certification authority.