Automatic Filters - Jet Filters
Inline filter without moving inner parts. The patented design allows for nearly all materials, flow rates, and mounting positions.
High backwash speed (up to 10 m/s)
Any mounting position (horizontally / vertically)
Simple installation (inline construction)
Low wear (no movable parts in the filter)
Low backwash water loss
No differential pressure increase during the filtering process
Wide range of materials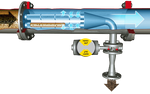 The Filterautomat is distinguished by an extremely robust design and an excellent backflushing performance. The complete filter area is cleaned by a rotating filter drum.
Inline construction
Crushing of rough particles
Minimum water loss for backwashing
Insert of slotted-sieves and wire-cloth screens
High backwash speed (up to 10 m/s, 33 fps)
100 % cleaning of the whole filter surface
Constant charging of the whole filter surface
Robust construction
Easy to maintain by the inspection hole

Powerful coarse filtration. Massive inline filter with diagonally positioned sieve plate. Manual or automatic backwashing is optionally available.
Reservoir for separated dirt particles
Fast demounting of the filter element
Simple installation (inline construction)
Low wear (no movable parts in the filter)
Installation on the suction side of the pump possible
Wide range of materials
Manual or automatic cleaning possible
About DANGO & DIENENTHAL Filtertechnik GmbH:
Welcome to the "World of Filtration" by DANGO & DIENENTHAL.
This is where your filter problems are solved effectively and economically.
Sophisticated filter solutions "Made in Germany"
365 days a year, 7 days a week and 24 hours a day – these are the working hours of our fully automatic backwash filters. They are among the core products of the "World of Filtration" and filter river water as well as cooling and process water and other liquid media around the clock. Just like all of our filters, they originate from Siegen and reliably separate unwanted solids from liquids at customers around the world.
Our delivery program also includes single filters, switchable duplex filters, bag filters, sludge dewatering equipment and separators (hydrocyclones).
More than 75 years of experience
In the 1950s, the steel industry tried to find innovative filter solutions for the large water circuits that are typical in the metal industry. This was the hour of birth of the filter technology department within the DANGO & DIENENTHAL company group, which quickly became an independent subsidiary.
One main focus was initially on the cooling water filtration in metallurgy. The customer demand grew rapidly, and other industry sectors were added. The requirements on the filters steadily increased over time and along with them also the young company. Thanks to a great deal of innovative spirit and well-educated, dedicated engineers, a wide-ranging product portfolio of the highest variety and quality developed.
Then as now, the ever-increasing demands of our customers are the driving force behind our eagerness for innovation!
Large family – great Expertise
DANGO & DIENENTHAL Filtertechnik GmbH is part of the owner-managed group DANGO & DIENENTHAL with more than 700 employees worldwide. In 1865, the name givers August Dango and Louis Dienenthal founded a non-ferrous metal foundry which was specialised in the construction of machines for the metallurgical industry and what began more than 150 years ago has developed into a group of companies with subsidiaries around the globe.
The familiar feeling of togetherness is not only reflected in the company structure, but also in the people who are employed at DANGO & DIENENTHAL and some of them already work for us in the fourth generation. All of them share one common goal, which is convincing our customers with a firm commitment in terms of quality, competence, inventiveness and friendliness.
Quality & Service
As a matter of course, we design and manufacture according to internationally valid standards, e.g. DIN-EN, AD2000, PED and ASME as well as on the basis of the required certifications, such as ISO 9001: 2015 and EAC. All or our products are produced in our specialised assembly workshops under the management of qualified engineers. We maintain long-term customer partnerships regardless of where our filters are used – ranging from the steel and paper industries to sewage treatment plants, drinking water and river water treatment through to agricultural and building technology.
The high-quality materials and the robust design of the filters ensure trouble-free operation and reliable filtration. Your plant components are protected in the best way possible, production losses are avoided and maintenance costs are considerably reduced.
As an experienced and proven partner, we offer our customers a comprehensive after-sales service in addition to commissioning, maintenance and servicing of the filters.
Facts & Figures
Our filters and separators are suitable for
flow rates: 1 m³/h – 25,000 m³/h
operating pressures:  0.5 bar – 64 bar
filter fineness: 1 µm – 10 mm
and have proven to be highly reliable due to
effective and guaranteed filtration
smooth operation
minimisation of maintenance and operating costs.
Please describe us your filtration problem and our process engineers will be able to offer you an optimal solution based on many years of experience!