Welded Plate Heat Exchangers
Welded Plate Heat Exchangers
GreenBoxTMis a fully welded heat exchanger, made of square corrugated plates welded together, forming the heart of the heat exchanger. There is no gasket between the plates; the sealing is done by a weld. Only the removable side panels, have gaskets for external sealing.
The heart, plate surface areas, of the heat exchanger is accessible for inspection or cleaning by simply removing the 4 side panels.
The patented soft corners design of the the heart/panels assembly of the GreenBox makes this heat exchanger the most robust of its category. Due to its mechanical reliability, is the ideal solution for operation in tough process duties with high pressures and temperatures.
Nexson Welded Plate Heat Exchangers are a concentrate of thermal efficiency for heat recovery interchanger, condenser, reboiler or evaporator applications and can be used in semi-fouling duties.
The high turbulent flow induced by the corrugated plates of GreenBox makes it about 5 times more thermally efficient than a traditional shell & tube heat exchanger. It also allows a temperature approach of approximately 2°C.
A better heat transfer coefficient means also a compact size of Greenbox and this can also reduce significantly installation, operation and maintenance costs.
The GreenBox works in simple or multi-pass according to design requirements,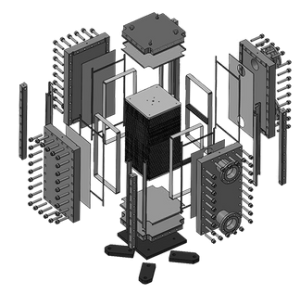 ROBUST AND PATENTED
Robustness and reliability for the welded plate heat exchanger is the key point. Nexson has patented his own welded plate heat exchanger, named GreenBox ™. With proven pressure and temperature cycling tests, this type of heat exchanger is one step ahead of the competition in terms of robustness.
2 SEMI-FOULING MEDIAS
This welded plate heat exchanger is designed to handle one or two semi-fouling media at the same time. Fouling handling is done thanks to corrugated plates which offer high shear stress values on the wall surface
EASY TO CLEAN
Thanks to dismountable panels, the welded heat exchanger is easy to clean with a hydro pressure water jet.
INTERCHANGEABLE "HEART" / HEAT TRANSFERT AREA
Due to its modular construction, it is possible to take out the heat transfer area from panels and substitute it while keeping the existing panels.
In case of raw material requirement change due to process evolution, a long-term operation approach is possible for this heat exchanger technology
CLOSE TEMPERATURE APPROACH
Thanks to the corrugated plates, combined with a high K value, you can reach a very close temperature approach and even get a crossing temperature
HIGH-VOLUME FLOW WITH LIMITED PRESSURE DROPS
The Green box welded plate heat exchanger is a multiple cross-section heat exchanger which allows different baffles arrangements according to the duty and pressure drop limitation required.
FULL INSPECTION OF THE HEAT TRANSFER AREA
By taking away the 4 panels you can access the whole heat transfer area for inspection during peridical plant shutdown.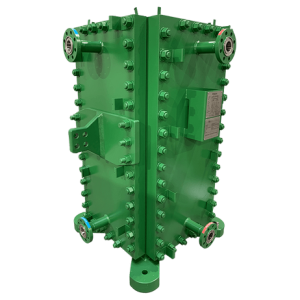 Material Selection and Design Limits
GreenBox Welded Heat Exchangerscan be manufactured in any material that can be formed and welded such as 304 / 304L, 316 / 316L, 904L, 254 SMO, C276, C22, C2000, Titanium…
Nexson GreenBox is used for a design pressure from full vacuum to 50 barg, and from -50°C design temperature to 450°C.
Liquid-to-Liquid Applications – 

Traditional use

Welded Plate Heat Exchangers for liquid-to-liquid applications are used in most industries: – Pulp and Paper, Refineries; – Petrochemicals; – Oil&Gas;- Food Industries; – Mining; – Steel and Metal manufacturing, etc. in applications for:
Heat Recovery
Heating
Cooling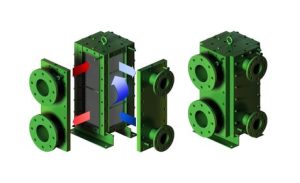 Condensation with  Sub-cooling
After the condensing phase, with baffles arrangement, a heat area surface can be dedicated where you may want to get the condensate subcooled before exiting the unit.
Evaporation / Reboiler
The green box welded plate heat exchanger is a real one through heat exchanger thermosyphon reboiler/evaporator. Flow to reboil/evaporate is in single-pass process mode.
Traditional uses
Welded Plate Heat Exchangers for bi-phasic applications are used in most industries: – Pulp and Paper, Refineries; – Petrochemicals; – Oil&Gas;- Food Industries; – Mining; – Steel and Metal manufacturing, etc. in applications as:
Vacuum Condenser
Overhead Condenser
Reflux Condenser
Gas treating, sweetening processing
Steam heater
Thermosyphon Reboiler