mechanical vacuum pumps for process engineering applications.
Körting is an independent system supplier
Liquid ring vacuum pumps are mechanical vacuum pumps that use electricity to create a vacuum. They offer low running costs due to electric power transmission. And they are encountered in many process engineering applications. In addition to the standard range, Körting can provide a whole host of customized solutions on request.
Advantages
The benefits entailed in using Körting liquid ring vacuum pumps:
adjusted design of hybrid systems with jet ejectors, condensers and liquid ring vacuum pumps
designs customized to the process concerned
oil-free compression (no contamination of the product)
ability to withstand the majority of liquids, vapours and solids (with a small grain size)
ATEX-compliant design is possible
as an independent system supplier, Körting can choose from a range of components from diverse manufacturers
almost 150 years of experience with technical vacuums for the processing industry
Customized design
In addition to standard designs, customized ones are possible too, adapted to customer specifications and processes.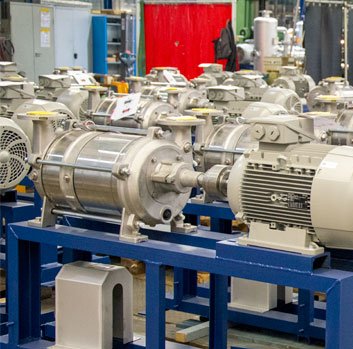 The standard design of Körting liquid ring vacuum pumps:
Once through
Advantages
low investment costs
exceptional reliability
no concentration of the suction medium in the liquid
System components
pump (1- or 2-stage)
motor
coupling
base plate
fittings and accessories required
Partial recovery
Advantages
low investment costs
lower running costs due to less waste water
less fresh water required
System components
Like aonce-through systemplus:
separators (e. g. on overhead separator)
connecting pipes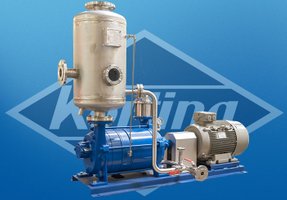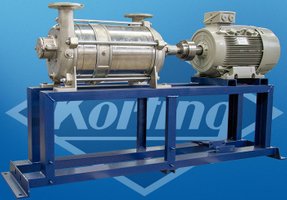 Full recovery with plate heat exchangers
Advantages
very low fresh water requirements
very low running costs as no waste water is produced
very efficient heat recovery via plate heat exchangers in a service-friendly design for easy maintenance and repair
System components
Like thepartial recovery systemplus: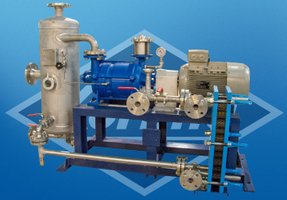 Full recovery with tube and shell heat exchanger
Advantages
very low fresh water requirements
very low running costs as no waste water is produced
ideal for use with cooling water or operating liquid contaminated with fibres or particles
System components
Like the partial recovery system plus:
shell and tube heat exchanger